Here's a recent report from Sahara Reporters concerning the above maltreatment of Hon. Onofiok Luke, Member representing Nsit Ubium State constituency.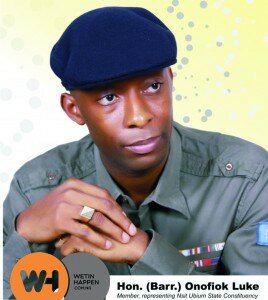 The Akwa Ibom state House of Assembly has descended into a serious crisis after the state governor, Godswill Akpabio, personally supervised the beating of a lawmaker he suspected to be politically opposed to him and his loyalists, PREMIUM TIMES has learnt.
Mr. Akpabio, witnesses said, watched as his loyalists manhandled Onofiok Luke, chairman of the House Committee on Finance and Appropriations, who was accused of being rude to the governor after he rose in defense of another lawmaker accused of challenging a loyalist of the governor at a caucus meeting held two days earlier.
The governor, our sources said, beamed with smiles as members of his kitchen cabinet, comprising Nse Ntuen, chairman of Essien Udim local government and Emmanuel Ekon, a member representing Abak/Ika/Etim Ekpo federal constituency in the House of Representatives, assaulted Mr. Luke for being allegedly rude to the governor.
The incident happened November 2 at a funeral service in honour of the mother-in-law of a state lawmaker, Gabriel Tobi, held in Etim Ekpo local government area of the state.
Mr. Akpabio had at the event summoned some lawmakers and tongue-lashed them for doing nothing after Victor Udofia, a lawmaker representing Ikono/Ini state Constituency, allegedly attacked his loyalist, Aniekan Akpan, a member representing  Ukanafun state constituency, at a caucus meeting of the House.
Witnesses say as the governor fumed and abused Mr. Udofia, who was not at the event, an equally furious Mr. Luke rose in defence of his colleague, telling the governor to abandon his divide-and-rule tactics in the interest of the state.
The governor had directed the speaker of the Assembly, Sam Ikon, to immediately activate a  process that would lead to the suspension of Mr. Udofia from the House. But Mr. Luke reportedly shot back, saying Mr. Udofia committed no offence and that any move to punish him would be resisted.
Angered by Mr. Luke's audacity, Messrs Ekon and Ntuen descended on him, hitting and punching him repeatedly.
Mr. Akpabio simply looked on, our sources said.
The fight, we learnt, only ended after Paul Ekpo, the state Chairman of the Peoples Democratic Party, intervened.
The Akwa state House of Assembly is now divided along those from the governor's minority Annang ethnic group and those from the majority Ibibio ethnic group.
Some lawmakers accuse Mr. Akpabio of financially empowering legislators from his ethnic group and then using them to undermine the speaker and other lawmakers from Ibibioland.
Messrs Ntuen and Ekon, who attacked Mr. Luke, are from Mr. Akpabio's Annang ethnic group while Mr. Luke is Ibibio.
PREMIUM TIMES learnt that after the incident, Mr. Akpabio directed his aides to embark on a tour of media establishments to compromise them and get them to drop stories on the accident.
Concerned that the incident might do further damage to his image, our sources within the administration said, the governor also hurriedly convened a press conference where he allegedly bribed reporters with N50,000 each not to report the incident.
Mr. Akpabio could not be reached to comment for this story.
But his spokesperson, who is also the state Commissioner for Information, Aniekan Umanah, confirmed there was a disagreement between Mr. Onofiok and the governor.
Mr. Umanah said while talking to the governor on the day in question, the lawmaker raised his voice against Mr. Akpabio.
"Other members asked him not to shout because he was talking to the governor," Mr. Umanah said. "Later, everything calmed down."
The commissioner added via a text message, "I was there in person. Nobody beat up Onofiok talk less of doing so before the governor."
Mr. Onofiok could not be reached for comments. But a source close to him said he had been under pressure from Governor Akpabio in the last few days to address the media to say he was never beaten by the governor's loyalists.
Our Governor is a man of integrity and discipline. Could this be possible? Is this another plot to generate ethnic bigotry? Is this a scheme to destabilize the peace co-existence and unity in Akwa Ibom State? Does this have anything to do with 2015? We are watching! What do you think?